June 29th, 2014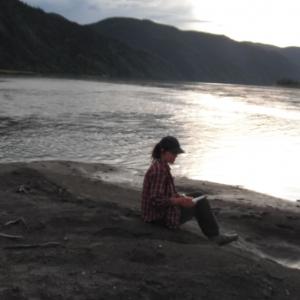 Just returned from a remote camp on the Yukon river. Spent a month there without connection to the outside world. refreshing to just focus on the daily living in camp.
Not much time for painting and art but I did get many sketches of the landscape done in pen and ink.
I brought some acrylic paints and small canvases but the white I thought I had bought was really cadmium yellow.....I use alot of white so I couldn't make it work. Some watercolors. Went out on the river a few times to collect ochre in many different shades of red, golds and purple. Will experiment mixing it with various thongs to see what it will do on canvas. A lone black wolf came along the beach while we were up high on the shore. I grabbed Andys sled dog so he wouldn't run after it and then couldn't help myself and rubbed red ochre thru his fur. he is now red until he sheds i think. I will post photos of my sketches soon.